What is the most dog-friendly alarm system in Omaha?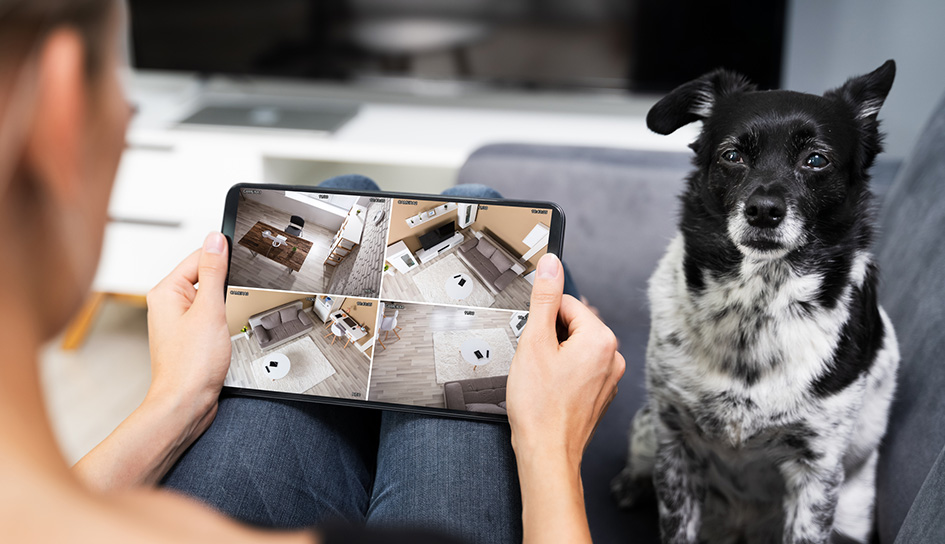 Few things are better than having a dog in Omaha. However, quite a few furry friends are inclined to set off a sensor on some home security systems. And it stands to reason that the more substantial your pooch is, the greater the chance they may cause a false alarm. So wouldn't you find it beneficial if there was a dog-friendly alarm system in Omaha?
As a dog owner, you ought to take into consideration the various benefits found in Vivint's alarms and cameras. To start with, you can adjust the sensors to exclude locations where your four-legged friends usually wander about. Then, make use of your indoor surveillance devices with high definition night vision and motion detecting capabilities to always have eyes on your furry housemates. Lastly, your dog-friendly alarm system needs to be simple to use so you can quickly activate and deactivate your property's security as required.
Adjust your sensors to account for your pet
Today's motion, door, and window sensors are much more pet-friendly than before. Cats and smaller dogs shouldn't have any trouble averting an unintentional sensor trip, as the equipment are capable of adjusting. Bigger dogs and rowdy animals might have a greater chance of causing false alarms, but you are able to lessen that risk with a few adjustments on the Vivint mobile app.
Adjust the sensitivity levels of your motion detectors to low. You can also alter the amount of area covered by the sensor.
Place motion detection devices away from high-traffic spots, including the favorite napping spot or feeding area.
Disengage your alarms with your smartphone app before you pull in the driveway -- particularly if your furry friend is known to bound past your front door or nearby windows when you walk up the front steps.
Set smart lighting to turn on to calm an uneasy dog after the sun goes down.
The ability to make these adjustments makes Vivint the leading pet-friendly home security system in Omaha.
Turn to your indoor video cams to see what's going on with your dog
Indoor security cameras with 2-way talk are an easy method for homeowners to check on their animals while away from home with your helpful cell phone app. Your surveillance devices can even provide a video feed of your pet in low-light situations in full high-def, so you're able to see what's going on downstairs without even leaving your room. Whenever your cameras notice unexpected movements, you may have a video snippet sent to your cell phone to see if it's your animal or a burglar.
Anxiety is fairly normal for dogs and if this is the situation with your animal, Vivint cameras could be beneficial to you. When you see them begin to act up, soothe them through the two-way audio feature. They can hear your speech and realize that it's all right. Or, if you find that they are troubled in a thunderstorm, you might remotely flip on a smart bulb to make things less scary.
The leading dog-friendly home security system in Omaha is a breeze to operate
The many animal-friendly options are fantastic, but they wouldn't help a great deal if they were a challenge to use. The nice aspect about a smart home package like Vivint's is that all your controls are both on your centralized control panel and your smartphone app. Feel free to set your equipment around your family's lifestyle -- and don't forget your pets! All it requires is a few button taps and you have your entire home security set up and ready to go.
Customize your pet-friendly Vivint security system today!
Your security system shouldn't have to be a burden on your dogs. Rather, it should offer superior security while letting you create the best environment for your animal companions. Dial (402) 925-9471 or send in the form today!
Communities Served Around Omaha By Smart Security Specialists Your Local Vivint Authorized Dealer